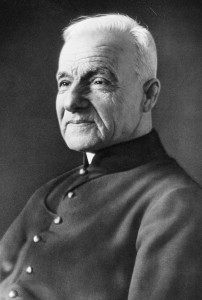 Alfred Bessette was born in 1845 in rural Quebec. He was the eighth of ten children born to Isaac and Clothilde Bessette. His father, a carpenter and furniture maker, died cutting wood when Alfred was ten. His mother died two years later. Now an orphan, Alfred was sent to live with relatives. His formal education finished soon after, as he left school to work on the farm. During his adolescence and young adulthood, he was apprenticed in many trades, but frail health limited his success. Part of this time was spent in the New England states, where many French Canadians had migrated for the plentiful factory jobs. In 1867, he moved back to Canada and came again to the attention of a parish priest of earlier years, Fr. Andre Provencal.
This holy pastor provided spiritual guidance to young Alfred as he discerned his place in life. Drawn to the religious life, he imitated many of the penitential practices of the saints. It was not unusual to find him praying late at night in the church after a long day of work. Fr Provencal recognized the holiness of this simple uneducated tradesman and encouraged his religious vocation. He sent Alfred to Notre-Dame College in Montreal, a school run by the Congregation of Holy Cross. He wrote a letter of introduction to the superior saying, "I am sending you a saint."
Alfred arrived at the school in November 1870, at the age of twenty-five. There, he took the name of Andre to honor his mentor, Fr. Provencal. He was assigned to be porter, or doorkeeper. His job as porter included welcoming and directing visitors, but he also humbly did many menial housekeeping tasks. As an elderly brother, he recalled with understated humor, "When I first came to the college, I was shown the door, and I remained there for forty years." A year later, he was rejected for permanent candidacy because of his poor health. But Andre was sure enough of his vocation that he boldly made a personal appeal to the bishop who assured him of a place in the congregation.
Through his novitiate and even after taking perpetual vows, Brother Andre was distinguished only by his devotion to assigned tasks, his simplicity and his constancy in prayer. This would soon change. Brother Andre often tended to the sick in the infirmary, and one of his first cures took place there. As porter, he received many sick who came to the school seeking assistance. Other unexplainable healings began to occur. Some of these even occurred at a distance. Many "miracles" happened when he counseled prayer to St. Joseph, or rubbing St. Joseph's Oil on the body. Brother Andre never took personal credit for the cures, always pointing to God's intervention through the intercession of St. Joseph.
Word of these events spread, and eventually so many were coming to see the holy brother that the college had to enlarge its entry way, and the city had to extend a tramway to the door of the college. The trolley station then had to be enlarged, and soon a chapel was built where he could receive the thousands of visitors who came to seek counsel and healing. He was known far and wide as "The Miracle Man of Montreal." Brother Andre also had a way of seeing into the souls of those who came to him. While they asked for a physical healing, he often saw their spiritual illness and counseled prayer and reform of life. It is much more difficult to document these healings, but in the eternal perspective, they were much more significant. At the time of his death, on January 6, 1937, more than a million people came to pay their respects, from government officials and church dignitaries to the simple poor, to whom he felt the closest.
Brother Andre's devotion to St. Joseph was nurtured at his mother's side. It deepened as the saint helped him through the struggles of poverty and hard labor. To all who came to him for help, Brother Andre's advice was, "Go to Joseph!" To further spread this devotion, Brother Andre dreamed of a great church dedicated to St. Joseph which could be a place of pilgrimage. He began with a small chapel on the hill opposite the school. He continued to seek funds and prayers. A larger church was begun during his lifetime, but WWII and economic woes kept it from completion until well after his death. Today the Oratory of St. Joseph receives 2 million visitors a year and is the largest church dedicated to St. Joseph in the world. Its walls are lined with crutches and other testimonies of healings which have taken place.
Andre Bessette was beatified by Pope John Paul VI on May 23, 1982. He was canonized on October 17, 2010 by Pope Benedict XVI. St Andre Bessette is buried in the Oratory of St. Joseph in Montreal. He is the first member of the Congregation of Holy Cross to be recognized as a saint by the Church. His feast is celebrated on January 6.
We have chosen St. Andre as the patron of our guild. The Congregation of Holy Cross and the University of Notre Dame have had a great effect on the spiritual life of this part of our diocese. The greater part of St. Andre's life was spent imitating Christ's healing ministry, the same healing ministry to which we are called as physicians and other health professionals. He showed a profound humility, reminding us that all of the knowledge and skill we employ is but a gift from God. St. Andre had a simple trust in God that helped him persevere in doing God's will in spite of great obstacles. He saw Christ in the poor and the sick and felt it a privilege to minister to them. He had concern for their souls as well as their bodies. We, too, are called to do the same. We ask St. Andre and St Joseph to pray for us and for all who come to us in need of healing.